Concept of a Visualist: Herbert Bayer's World Geo-Graphic Atlas
Upcoming Exhibition – Opening June 20
On view in the Resnick Center for Herbert Bayer Studies, this exhibition examines Herbert Bayer's 1953 World Geo-Graphic Atlas, a landmark work of visual education and modernist design. Marking the seventieth anniversary of the atlas's publication, this is the first exhibition devoted to this groundbreaking and influential work that has come to occupy a key place within graphic design history. In addition to exploring Bayer's contributions to map design and scientific illustration, Concept of a Visualist provides new insights into Herbert Bayer's larger body of artwork and highlights the atlas's continued relevance for audiences today.
Charting Space: Herbert Bayer's World Geo-Graphic Atlas at 70
Upcoming Exhibition – Opening June 20
Charting Space: Herbert Bayer's World Geo-Graphic Atlas at 70 is on view in the Resnick Gallery located in the Doerr-Hosier Center.  Intended for visitors of all ages, but particularly for K-12 youths, the installation uses Bayer's atlas as a springboard to explore current issues related to our world including, travel, natural resources, population, and conservation. Making use of interactive elements and multimedia experiences, the layout unfolds in three sections focusing on the themes that Bayer used to visualize the world for readers: the observable universe; the planet Earth; and individual states and countries.
Herbert Bayer's Aspen Campus Artworks, 1953-73
Paepcke Gallery, Paepcke Memorial Building
Drawn from a vast collection housed at the Denver Public Library, this year's Paepcke Gallery exhibition provides context for Bayer's legacy by presenting newly digitized selections from the Herbert Bayer Archives. On view throughout 2022 is a focused survey of Bayer's sculptures, murals, and earthworks, which have defined the Aspen Institute's campus identity for decades.
Herbert Bayer: An Introduction
A landmark exhibition celebrating Herbert Bayer's artwork and legacy.
June 2022 – April 2023
The inaugural exhibition, Herbert Bayer: An Introduction, curated by Bayer expert Bernard Jazzar, is the first major US exhibition since 1973 to present so full a range of the artist's work from the late 1910s to the mid-1980s. The survey exhibition provides a contemporary reexamination of Bayer's career, focusing on his role as a fine artist. With over 150 pieces arranged across 13 galleries, Bayer's artworks are presented chronologically, from his teenage sketches to paintings from his final decade in Montecito, California. The exhibition includes dozens of rarely-exhibited drawings, gouaches, and watercolors as well as tapestry, sculpture, publications, works on paper, ephemera, and historical photographs.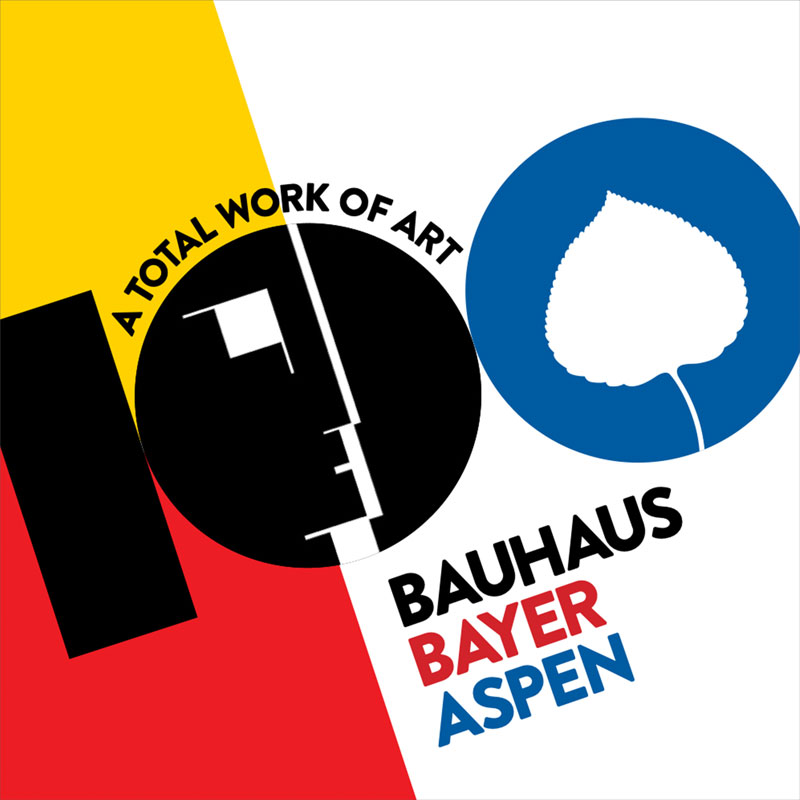 A Total Work of Art: Bauhaus-Bayer-Aspen
Resnick Gallery, Doerr-Hosier Building
June 2022 – April 2023
Created in 2019 in conjunction with the Aspen Institute's centennial celebration of the Bauhaus, A Total Work of Art: Bauhaus-Bayer-Aspen presents an overview of the evolution of the Bauhaus, the influential school and movement where Bayer studied and taught, and which operated in Germany between 1919-1933. The exhibition features reproductions of archival materials and concludes with a focused survey of Bayer's innovative exhibition designs.